Social media is a staple area of digital marketing for businesses of all shapes and sizes, industries and audiences. However, with updates and new releases making it an ever-shifting landscape, brands need to keep up to date with the latest developments and changes to the space in order to benefit from their social channels. Apply the practical advice in this guide to help strategize your social media marketing plan for 2019.
Social media marketing: The basics
In 2019, it's estimated that 2.77 billion people will use social media networks worldwide. That's almost 40% of the globe's population. With those kinds of figures, it's no surprise that businesses put so much effort into social media marketing.
What is social media marketing?
Social media marketing refers to business activity on social media platforms which contributes to marketing objectives such as brand awareness, website traffic, and customer acquisition.
This activity is predominantly in the form of content —such as text, images and videos — but also includes community engagement and paid ads. At the heart of great social media content is the audience's desire to share it. When your audience share your content, they become your channel of distribution. Whether it's tagging a friend in an Instagram post or retweeting something to their audience, content that is highly relevant and visually attractive is likely to receive high engagement and shares.
What is the most effective social media channel?
There's no straightforward answer to this, and social media marketing isn't a one-size-fits-all solution. Different social media channels generate better results than others for certain business objectives, and the content published will also vary depending on these factors! For example, a video on Facebook is unlikely to be more effective for driving business audience traffic than an article on LinkedIn, and so on. The great thing about this is that you can utilize the different social channel's purposes for different kinds of marketing campaigns, ensuring the content is highly tailored for that platform and audience. More on this in the strategy section!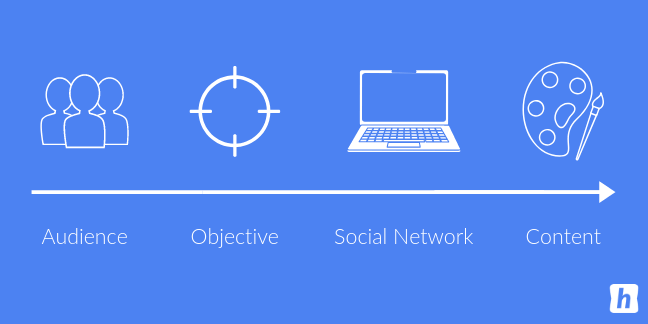 What are the benefits of social media marketing?
As mentioned, the specific business outcomes of social media marketing campaigns (such as sales, traffic etc) will depend on what objectives you set in the first place. However, there are other general benefits that come from brands being active on social media, such as:
Being more discoverable 🔍
If you are posting content on a number of social media channels that's tailored to your target demographic, you're naturally likely to be discovered by new potential customers.
Having valuable conversations with customers 💬
It's no wonder so many companies use Twitter for customer support, or run Q&As on Instagram Stories. Social media marketing offers a personal and informal way to get to know your audience.
Recruitment opportunities 👥
Social media marketing makes it easier than ever to share company culture and the people behind a business with the world. This not only increases customer loyalty but also helps when it comes to hiring brilliant new people!
Building a community 🤝
No matter your industry, social media marketing helps to connect you with your target audience and other relevant businesses.
With every app-update comes more creative ways to enhance your social media marketing and hit those KPIs. The benefits are endless, and the more you learn about what platforms and content work best for your objectives, the more you'll get out of social media marketing!
Create a social media marketing strategy
Now we've covered a brief overview of what social media marketing is and how it can benefit your business, let's move on to the practical bit. Before diving straight in with a few tweets and Instagram posts, all social media marketing activity needs to start with a strategy.
#1 Set your objectives 🏅
As discussed, you can't plan which channels to use or what kind of content to produce until you determine your business objectives. i.e what do you want your social media marketing to achieve? 
Deciding these targets in advance will:
Save time and resources
Ensure you're not producing content 'for the sake of it'
Help you establish the key metrics to track success
These objectives will naturally vary business to business, which is why there isn't a blanket answer for 'what works best'. Write a list of everything you want out of your social media marketing activity, and then prioritize them in terms of value for your business. Once you have your core objectives decided, you can proceed with the next step.
#2 Outline your audience 👥
Just as it's important to outline why you're using social media marketing, you also need to clarify who you're trying to reach. This will help to determine which social channels will be most effective for your objectives. For example, 72% of teenagers are on Instagram, whereas the majority of Twitter users are aged 18-29. Depending who your target demographic is, you might decide to prioritize a certain social network over another.
Clearly outline your audience demographic, and go into as much detail as possible: age, gender, location, hobbies, interests, challenges they face, where they hang out, what other brands they like – the lists can go on and on. Determining these characteristics will ensure you use the best social networks to reach them, and also cater your content to best reach your objectives! See how it all links up?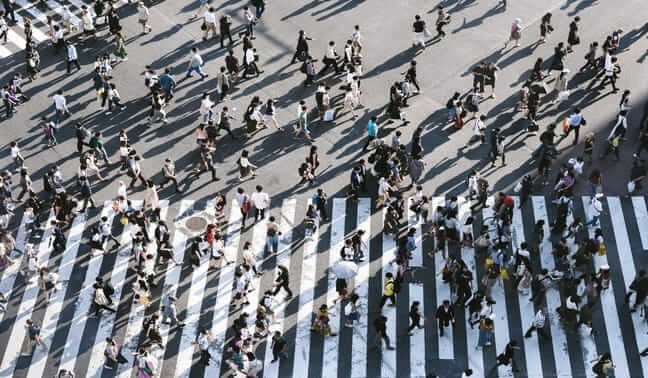 #3 Market research 📈
Analyzing your competitors' social media marketing activity is an important and valuable part of your strategy. After all, their target audience is your target audience. Spend some time researching:
Which platforms they're most active on
What kind of content they publish
How much average engagement they get
What hashtags they use
What tone of voice they use
What kind of conversations they have with their audience
What call to action they promote
The list goes on…
Taking the time to do this social media marketing analysis will put you in a good position to decide which platforms are best for your audience and objectives, as well as help you get to know your target demographics' behavior on social media.
#4 Prioritize social networks 📱
With all of the above strategizing, you should now have a pretty good idea of which social networks are most valuable to your business. All social channels can benefit all businesses in some ways, but you will spread yourself too thinly by trying to be highly active on all of them.
Instead, prioritize which networks are the most effective for your audience and business objectives, and focus on producing different kinds of content to maximize results. If you sell a consumer product which lends itself well to visual marketing, Instagram should be the obvious choice. Contrastingly, if you are a B2B service provider you'll probably find Twitter or LinkedIn more effective.
#5 Set brand guidelines 📋
This an important step for any social media marketing strategy, particularly if you're working in a team. Brand guidelines should cover all details regarding brand activity on social media – and should be clear and accessible to everyone with access to the social accounts. Outlining these details early on in your social media marketing strategy will ensure everyone is on the same page, and help you create a consistent and recognizable brand persona on social media.
Here are some things you'll want to consider including in your social media marketing brand guidelines:
Brand voice
What kind of tone/language do you use? Is it the same on every platform?

Use of emojis
How formally/informally do you want to be perceived? 
Use of hashtags 
Which hashtags do you always use on each social network? Which do you want to avoid?
Protocol on interacting with audience 
Who is responsible for replying to comments and messages? Do you reply personally or as the brand?
Banned words/topics 
There are some things you never want your brand to talk about on social media – even if it's obvious to you, avoid any potential faux pas by outlining them in the guidelines
These are just a few examples – but the list will go on depending on your brand and how many social networks you're using in your marketing.
Remember, however you decide to portray your brand on social media, the important thing is that you stick to your guidelines! You want your audience to feel a familiarity that will engender loyalty, so ensure your activity across all social networks is consistent.
#6 Plan your content 📸
Now comes the more creative part – deciding what type of content will best achieve your objectives on each social network. This may vary depending on resources, but predominantly involves weighing up:
Photos
Videos
Graphics
Articles
Livestreams
Stories
It's hard to know where to start, so try and think about your target audience and really get to the heart of what matters to them and what they're most likely to react to. If you've carried out your demographic and competitor market research thoroughly, this hopefully won't be too difficult a decision!
All of these content options have sub-categories to consider, for example, if you decide that Instagram photos will make up the majority of your content, you'll need to think about:
What the photos are of
What style they are taken in
Color scheme and feed aesthetic
Who will take them
Where they'll be taken
Using user-generated photographs
A lot of these details will take shape as you get going and learn what your audience best respond to, and it's good to adjust your content accordingly!
#7 Use a content calendar 🗓
Social media marketing is a huge task, especially when you're active across many different channels. Without sufficient planning, it's easy to post sporadically or neglect certain social networks. The best way to stay on top of all this content is using a social media marketing calendar, so you can see how frequently you are publishing and ensure posting consistency.
Using a content calendar, you can plan ahead for big events or milestones, brand announcements, or relevant social media holidays!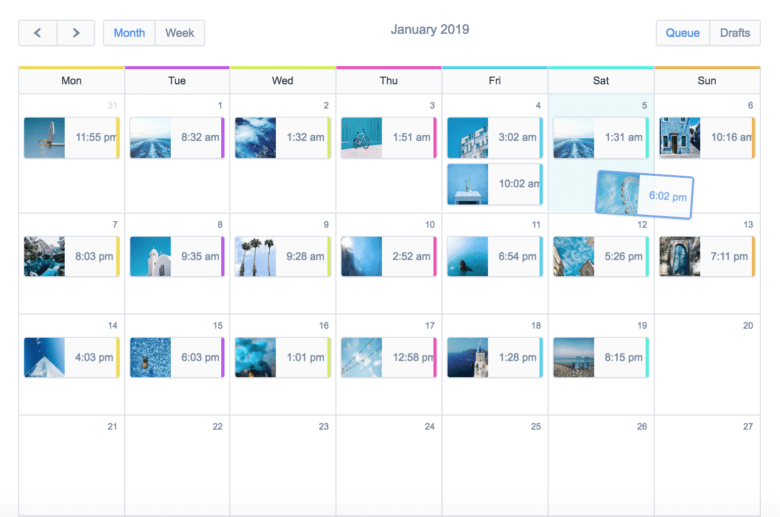 #8 Schedule social media content ⏰
If you want to save yourself hours of time and generally enhance the quality of your social media marketing, you need to schedule content. Using an automated management and scheduling tool like ours, you can bulk upload your photos, videos and text posts for Instagram, Facebook and Twitter — and set them to be published in the weeks ahead! Scheduling social media content in advance improves efficiency, keeping everything in one place and freeing up more time for content creation and other creative aspects of social media marketing.
#9 Track your metrics 📊
Last but definitely not least! One of the most important aspects of social media marketing is that you track the metrics and KPIs linked to your objectives for each social network. It's all well and good putting out excellent material and engaging with your audience, but if you aren't listening to the numbers you won't learn what works best. You might think a Facebook campaign is brilliant, but if it doesn't do what it was meant to, then it's a waste of time and resources. By tracking key metrics you can develop and optimize your activity and become excellent at social media marketing!
With business social media accounts, you have access to insights such as reach, impressions, engagement as well as information about your audience demographics, such as age, gender and location.
Whether you're just starting out with social media marketing or are looking to reconsider your strategy, follow those 9 steps to skyrocket your presence across social media networks and smash those targets!